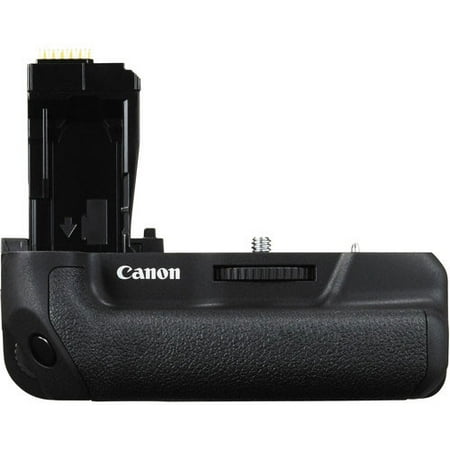 The Canon BG-E18 Battery Gripis designed for use with the Canon EOS Rebel T6i and T6s DSLR Cameras. When installed, it can accommodate one or two rechargeable LP-E17 batteries and creates a greater surface area than what is provided by an EOS Rebel T6i or T6s alone. Aside from being able to double available battery capacity and decreasing the potential for a connected camera to fall out of hand, the BG-E18 Battery Grip, with its integrated shutter release button, offers the ability to hold and trigger either an EOS Rebel T6i or T6s in the vertical shooting position without having to turn one's wrist. This increases overall comfort and the ability to capture images in the desired orientation. This battery grip does not support a battery magazine for AA batteries, or an AC adapter kit.
$138.99
Related Products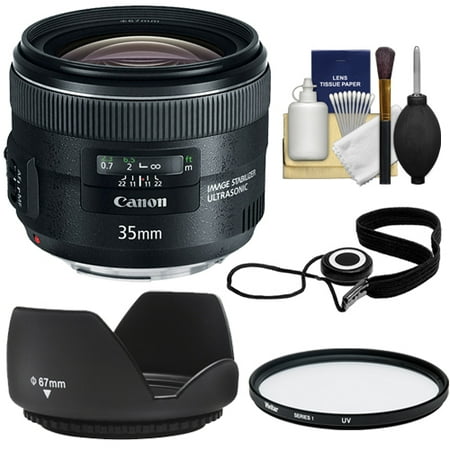 $569.99
Canon EF 35mm f/2 IS USM Lens A versatile, compact and lightweight wide-angle lens. The Canon EF 35mm f/2 IS USM is incredibly bright and offers image stabilization, superb image quality and construction perfect for use on any EOS digital camera. With a redesigned mechanical and optical structure, the EF 35mm f/2 IS USM features a GMo aspherical lens element for high image quality with improved performance in the periphery. It incorporates a rear focus system and ring-type USM for faster, more precise autofocus performance. Full-time manual focus enables manual focusing while in AF mode, a micro-stepping drive provides quieter operation and a low speed focus drive delivers optimal results for video shooting. Canon Optical Image Stabilizer system delivers the equivalent effect of 4 stops and can detect normal shooting or panning, and automatically switches to the optimal IS mode. Compact and lightweight, the EF 35mm f/2 IS USM has an 8-blade circular aperture diaphragm for soft backgrounds, a minimum focusing distance of 0.79 ft./0.24m, plus optimized lens coatings for minimized ghosting and flare. Key Features: 1 aspherical GMo element 8-blade circular diaphragm Minimum focusing distance of 0.79 ft./0.24m Rear focusing and ring-type USM deliver, fast, quiet AF Micro-stepping drive provides quieter operation Full-time manual focus is available even while in AF mode Canon Optical Image Stabilizer system delivers the equiv. effect of 4 stops Optimized lens coatings for minimized ghosting and flare Compact and lightweight design The Vivitar UV Filter is a multi-purpose glass filter that is designed to optimize your photography experience. UV filters block out unwanted ultraviolet light and prevents the UV fogging/haze effect, which can result in inaccurate color and lower the apparent sharpness. This filter is also ideal for protecting your valuable lens from scratches and dust, and it can be kept on the lens at all times. The Pro Hard Lens Hood is designed to prevent un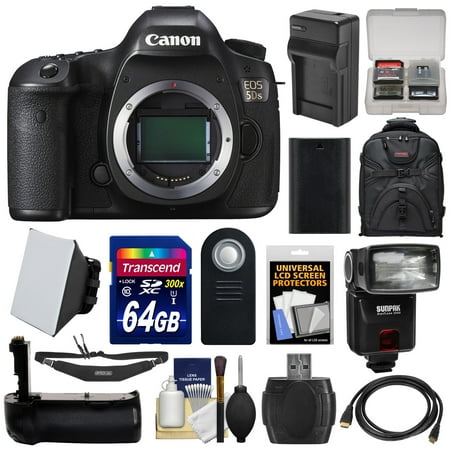 $3,499.99
Canon EOS 5DS Digital SLR Camera Body The freedom of high resolution. Marking a new standard in high-resolution digital SLR photography, the Canon EOS 5DS Digital SLR Camera Body shatters the status quo with a new 50.6 Megapixel, full-frame CMOS sensor. Perfect for commercial and fine art photography, or any other application that calls for extremely high-resolution, the EOS 5DS is the ultimate combination of EOS performance and ultra-high megapixel capture. It features an advanced, 61-point High Density Reticular AF system that includes 41 cross-type AF points and EOS iTR AF for precise AF in numerous situations. An anti-flicker function helps provide consistent exposure and color during continuous shooting under certain lighting conditions, while a built-in bulb timer and intervalometer expands creative opportunities without the need for an additional remote control. A refined mirror control mechanism reduces vibration and a Time Release Lag setting minimizes camera shake for sharp image capture when using mirror lock-up. New features like a crop function of 1.3x and 1.6x and a Custom Quick Control screen are complemented by advanced, multi-featured Full HD Movie capture, with Time Lapse Movie, and much more. With EOS performance and 50.6 Megapixel Capture, the EOS 5DS revolutionizes high-resolution photography! Key Features: New 50.6 Megapixel Full-frame CMOS sensor: The EOS 5DS camera features Canons newest full-frame CMOS sensor. At 50.6 Megapixels, its the highest resolution sensor in the history of EOS. It captures 8712 x 5813 effective pixels, delivering images with an unprecedented level of realism perfect for large-scale commercial printing, fine art, significant crops and any number of other high-end applications. Thanks to this amazing sensor, engineered to work in concert with dual DIGIC 6 Image Processors, the EOS 5DS is a remarkable, high-resolution camera with impressive performance. New Fine Detail mode in Picture Style: Taking advantage of its sens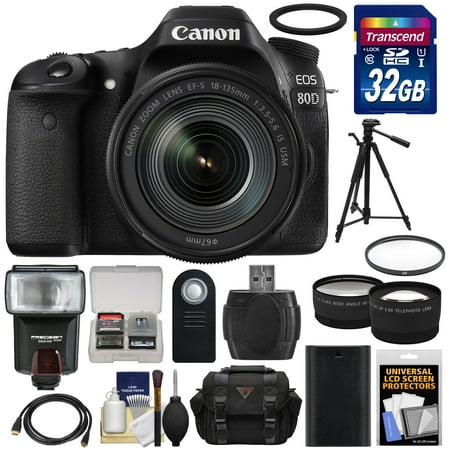 $1,299.99
* Kit Includes 15 Items with all Mfr-supplied Acc + Full USA Warranties45-point all cross-type AF system* allows for superb autofocus when shooting with the optical viewfinder and focusing area selection modes. Intelligent Viewfinder with approximately 100% viewfinder coverage.24.2 Megapixel (APS-C) CMOS sensor helps provide impressive high-resolution results. Improved Dual Pixel CMOS AF helps you shoot video with smooth fast and accurate autofocus and stills with instant and precise autofocus.